This year has been Greenmoxie's best ever… by a mile. We added a YouTube channel and a podcast and doubled our traffic. Who do we have to thank? You guys! From the bottom of our green little hearts we thank you for enjoying our content and sharing it with others. Together, we can help to save our precious environment, get people outside and live richer, healthier lives. Here are some of the things you liked most this year.
10. Punked by Nature: The most popular post from our podcast starts us off on a really good note! Listen here for some bizarrely close encounters of the furred kind.
9. Bacon-wrapped Onion Ring Campfire Recipe: This is one of my all-time favorites, so I am glad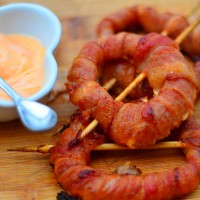 you liked it too. There's nothing better for a 'wow' factor when making these easy onion rings that make for very happy campers.
8. Free Tiny House Plans that will Help you Live Sustainably: Thinking of downsizing? Here are some free tiny house plans to inspire you.
7. Natural Teeth Whiteners That Won't Damage your Enamel: Get those gnashers looking great without taking years off their lifespan with harsh chemicals.
6. Ten Common foods that can be Lethal for your Dog: We all know that chocolate is bad for your best friend, but there are other things too that can make your dog sick too. Be sure to read this one if you have a four-legged friend.
5. 6 DIY Compost Bins that are Borderline Genius: This spring saw us trying all sorts of compost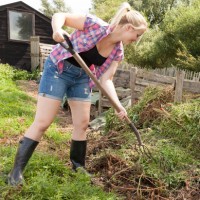 solutions that were easy, cheap and that actually worked. We had some mixed results, but we found these ones the best.
4. Campfire Bannock Recipe: Bannock has been a staple of the true camper for centuries. We show you three wonderfully easy ways to cook fresh bread on the fire whenever you head out into the woods.
3. 14 Tiny Houses to Tickle your Fancy: Not surprising, this year saw the tiny house grow from strength to strength. As more tiny house enthusiasts join the movement, we see innovation in design and construction.
2. Eco-Friendly Alternatives for Melting Ice and Snow: Salt is the traditional cure for all things frosty and, while it works really well, it's bad for the environment and for pet paws. Here are some other suggestions for keeping your walkways safe this winter.
1. The Greenmoxie Tiny House Project: The idea of parsing down your life to the bare essentials is so appealing. No mortgage means you need to spend less of your life working and more time enjoying the things you love. We loved building our tiny home, and will be building a new one in the spring. Stay tuned!
Happy New Year from all of us at the Greenmoxie HQ!
Want more in 2018? Subscribe to our YouTube Channel for great free content.