The Greenmoxie Book is Here!

We take you through your home, office and garden and show you how to do just about everything in a more eco-friendly way. From upcycling projects you can do with your kids, to making your own make-up and everything in between, this book is a comprehensive guide for those who want to live a leaner, greener and healthier life.
Make awesome stuff, save the planet, have fun & save money!
A large variety of projects to keep you green: Learn to make homemade cheese, yogurt, makeup, laundry detergent, cough syrup, wine bottle chandeliers, teacup candles, and even your own bug spray (plus many, many more!)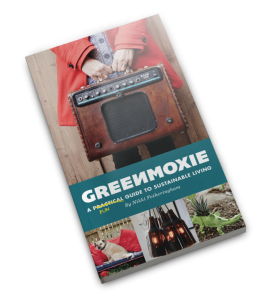 Find out how you can live green with many sustainability tips and strategies that target every room of your home.
Content: Over 75 new DIY projects and tips!
Softcover: 146 pages
Color: Full colour cover & interior
Language: English
ISBN-13: 978-0993995408
Product Dimensions: 5 x 8 inches
Nikki Fotheringham
I'm not a chef. I am a traveller, horseradish whisperer and author of Greenmoxie's Practical Guide to Sustainable Living. I grew up in Durban, South Africa where there are no seasons, just one glorious summer so naturally, we cook outside. A lot!
Whether you are camping, hiking, climbing, paddling, biking or lazing in your backyard, you should be eating wonderful meals with friends around that fundamental symbol of warmth and comfort; the campfire.