We take responsibility for our impact on the earth. We recycle, upcycle and are continuously striving to waste less, consume less and need less. So it's no surprise that the tiny house movement really ticked all our boxes.
I'm not talking about a tiny house that is essentially a fancy trailer that needs to hook into the grid and sewage system, I mean a sustainable, off-grid, eco-friendly home that is a comfortable place to stay. The idea of living mortgage-free only added to the appeal. Combining the unique aesthetic of innovative designer David Shephard and the craftsmanship and ingenuity of builder Ian Fotheringham, we set out to build our Greenmoxie tiny house.
340 sq ft
Sustainably Built
Completely Off-Grid
Starting at $65,000 US
---
Interested in buying the
Greenmoxie Tiny House? Get in touch with us here →
As seen on:
From the Blog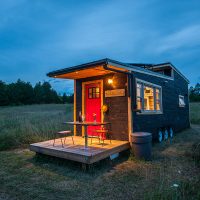 Many desirable benefits can be associated with tiny home living, such as a lower carbon footprint, less time cleaning, and fewer living expenses. Though the benefits are many, a lack of space can be one significant disadvantage.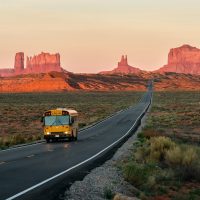 Have you ever dreamed of packing all your possessions in an old school bus and heading for the hills? Well dream no more! Here are some free floor plans for your school bus conversion to help you start your project of a lifetime.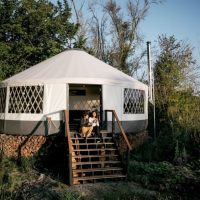 Couple builds dreamy yurt tiny house and shares DIY yurt building tips through their new website.
View More Posts →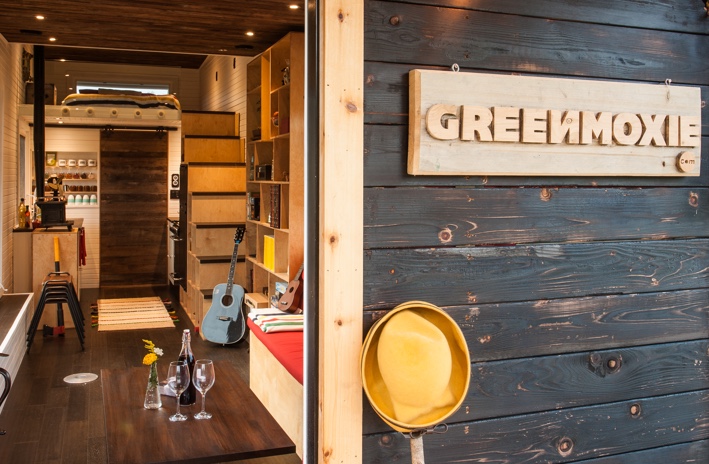 Simply elegant & sustainable
Through the design phase, we consulted with experts on solar systems and rain-water catchment and with two architects who specialize in the green living space.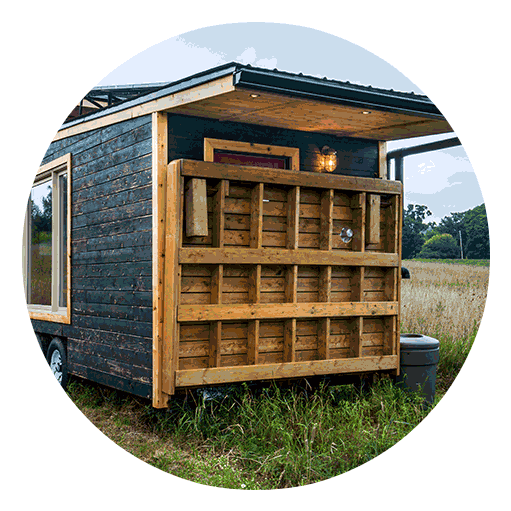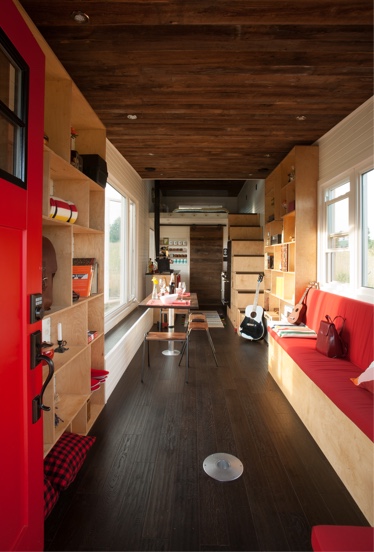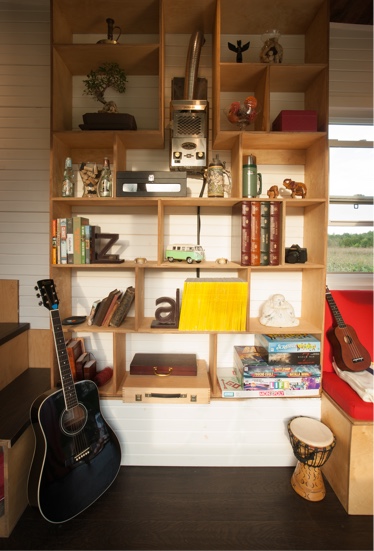 Thoughtfully designed and constructed
As the build began, we walked this path with excitement and enthusiasm and then, at one point there, we were running down the hill completely out of control. The more we built, the more ideas we had.
We put all the things into this mighty little tiny house. And while we blew our budget to smithereens, what we ended up with is the most beautiful, functional, innovative green home that is completely off-grid.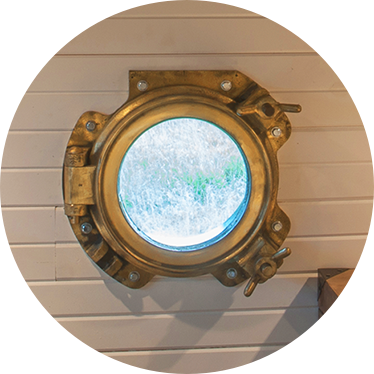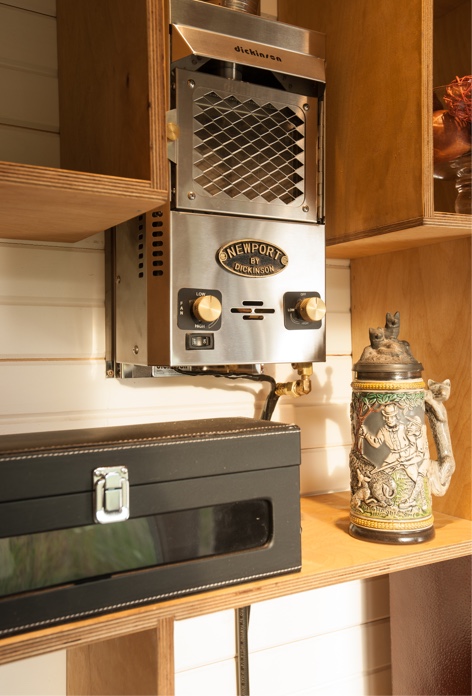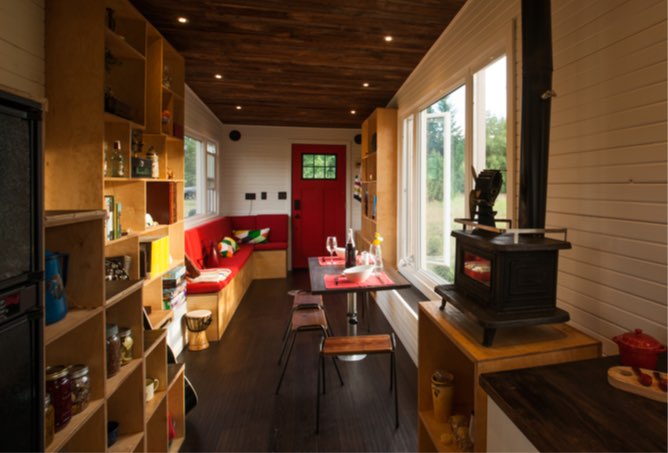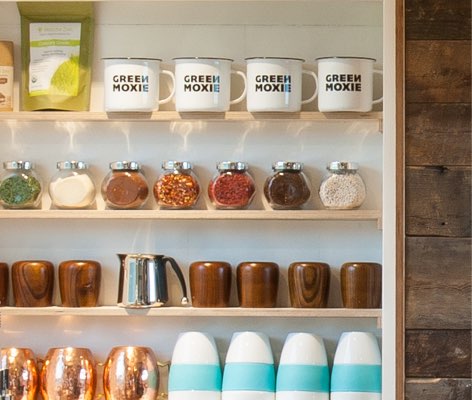 Turn-key home, cabin, or bunkie
This baby has it all (even the kitchen sink) and is ready to be lived in—a turnkey solution to any housing crisis you may be having. Whether you want to live in this beauty or use it as a holiday home or Bunkie, the tiny house is the panacea to high housing prices and small spaces.
Take the video tour:
The Greenmoxie Tiny House
Building Envelope
30' 10 ton custom built trailer platform
Triple axle (rated for 7,000lbs each) with 16″ rims
Electric Brakes on all 3 axels, slipper springs, pintle ring hitch
Wood Frame Construction 16″ OC Studs
Norbord OSB wall, ceiling, & floor sheathing, and house wrap
Reclaimed Modern Windows (+ Custom clerestory Windows in the loft)
Spray foam insulation – roof R35, walls R22, & floor R35
Shou Sugi Ban (Cedar Siding charred and sealed with linseed oil)
V-match pine interior
Hardwood oak flooring throughout
Reclaimed barn wood ceilings
Corrugated black metal roof & Eavestrough
HVAC Systems
Dickinson 9000 propane heater
Marine Stoves Little Cod® wood burning stove 10,000 BTU's Low to 28,000 BTU's High, [ 3 – 8 Kw.]
Eccotemp FVI-12-LP High Capacity Propane Tankless Water Heater
Lunos E2 Heat Recovery Ventilator System
2–30LB Propane Tanks
Electrical Systems
12V DC
1kW Solar PV system with custom racking system
11kW of stored energy
4 Surrette AGM 6V, 460AHr Batteries
Tri Star Charge Controller
Flush mounted articulated ceiling lights
LED low voltage lighting throughout
AC inverter for four recepticles
Water Systems
First Flush® Roof water recovery system
200L rain barrel
Three Stage Ceramic Water Filter Home Drinking Purifier
2 x SHURflo 3.0 Revolution Water Pumps
200L on board filtered water storage, w/ filling pump, and separate on-demand pump & accumulator
200L grey water holding tank
WEMA water gauges
Appliances
Atwood Helium propane refrigerator/freezer
Unique propane 24" range
Sun-Mar Excel composting toilet
DC powered range vent
Features & Fixtures
Dual-pitched roof for improved airflow in the loft
Custom Full size stand up shower with rainfall shower head and pan
10″ (thermal) Ecofan®
Superwinch LT2000 Utility Winch (for drawbridge deck)
Custom Glass Railing in loft
Custom kitchen cabinets & counter tops
Custom bathroom sink, cabinet, faucet
Stainless steel kitchen sink with pot filling faucet
Custom Moveable dining table with Garelick Gas Rise Pedestal
Garelick flush mounted socket x 3 (dining, coffee, outdoor configurations)
Custom Baltic Birch shelving with plenty of storage space
4-speaker integrated sound system w/ Alpine amp and remote control panel
Custom Built Baltic Birch Bench w/ Sunbrella custom covered cushions
Custom Made stacking wood & metal stools
Electric Draw Bridge Deck
Metal entry door with combination lock
Reclaimed 100 year old brass portal window and exterior light fixture
Custom Reclaimed barn wood sliding bathroom door
Who's Involved
David Shephard

Greenmoxie Co-Founder

The idea for building the Greenmoxie Tiny House started with David and quickly inspired the other members of the team. David is an obsessive entrepreneur with interests in advertising, publishing, renewable energy, and sustainable business models.

Ian Fotheringham

Green building consultant

As an advocate for green building, Ian will be designing the house, drafting the plans, and making it as eco-friendly as possible while maximizing our resources. Contact Ian.

Cornelius Quiring

Storyteller & helping hand

I will be documenting the entire process and sharing our day to day activities as we build the tiny getaway. I will also help out by holding boards, swinging a hammer, or whatever needs doing.