With the arrival of warmer weather, thoughts turn to spending time outside and ways to make external areas more comfortable and practical. But can luxury be incorporated into the great outdoors? Well, exteriors are being decorated with the same attention to detail as interiors in order to make the most of the time (and space) available. Three of the latest décor trends are: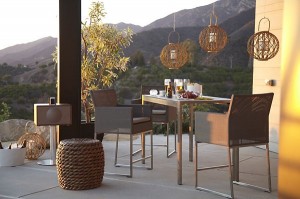 Furniture – anything plastic and collapsible was once considered proper patio furniture, but with a demand for better and more varied outer furnishings things have changed (fortunately!). Fashionable lounge and dining suites are found in many materials, modes and colours. Fabrics for throw pillows, lounger cushions as well as umbrellas and canopies are durable; they can stand up to the elements and parties! Repurposed goods are also readily available for external use. Rugs and curtains are increasingly seen on decks to define more intimate open-air 'rooms'. Who wouldn't want to relax on a daybed surrounded by drapes fluttering in the breeze?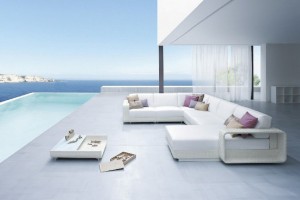 Lighting – having always played a role out-of-doors, lighting's increased in sophistication from lit torches along a garden path. On the modern terrace there's an array of lanterns and candles as well as pendants strung from trees (where possible use energy-efficient LED bulbs). Chandeliers hanging above a table for alfresco dining are also popular. Solar lighting is an eco-friendly alternative, perfect for bringing illumination to borders or architectural planting. A fire pit will add an ambient glow, create a cosy corner and is portable. Lighting built into decks, benches and stairs assist in brightening areas and finding one's way after one too many!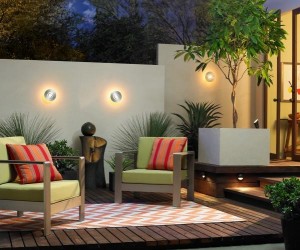 Plants – part of the fun of getting out is enjoying nature. No better way to bring greenery to a balcony or poolside then some well-placed pots or planters. Containers currently come in countless sizes, shapes and styles. When it comes to planting the options are endless; flowers liven up living areas, herbs add flavour to meals and fresh fruit and vegetables can't be beat. Growing your own produce cuts back on grocery bills and is good for you as well as the environment.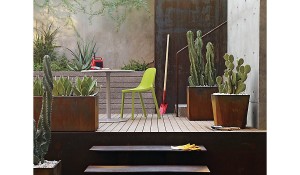 Need some good karma? 'Like' us on Facebook and get more good vibes than you can shake a sharp stick at!