We know you eco-warriors like to get outside and play in the dirt, but you hate it when your camping gear just doesn't crack the nod. We know that you don't cheap out on budget gear because you understand that it's just landfill fodder. There's nothing more miserable than being wet on a rainy camping trip thanks to dodgy gear. That's why your trusty Greenmoxie crew has decided to take one for the team and find the best gear out there.
Our commitment to you knows no bounds
Our rigorous process included asking our team to nominate that one piece of gear that is their trusty sidekick. The stuff that just keeps on giving and lasts for decades, no matter what you put it through.
Then we took it camping, hiking, canoeing, fishing and backcountry camping. I know, I know, the things we do for you—the sacrifices we make—there's just no limit to the lengths we will go to. I mean beautiful scenery, swimming in lakes, campfire cooking, sleeping under the stars (le sigh)… well you're welcome!
Ok so seriously – we had SO MUCH FUN. And while it's true that some of the gear just didn't make it, we found some things that we absolutely love, items that we know will be with you for a long, long time and many wild adventures.
Backpack Review
For the large backpacks for the serious outdoor adventurer, Osprey is a hands-down winner. We tried out the Aether 70 which is great for 3-7 day hikes.
New strap construction bears weight like nothing I have yet experienced, distributing the load evenly and comfortably across your shoulders, back and hips.
Attention to detail throughout this pack is second to none.; Osprey has taken feedback from their customers to heart, and made every improvement possible. There's a little pocket just where you'd want it, there's a protected slot for a water bladder, there's even a smart little trekking pole suspension system so you don't need to take it off when the trail gets a little rough.
Once at camp, feel free to take off on a little day hike; just remove the upper hatch and take it along as a day bag.
Mammut Creon Light
Light as a feather, tough as nails, the Mammut lightweight backpacks rock! I tested the Creon Light and I really tried to break the back of this puppy—I even took it to the Yukon which isn't for sissies, but it sailed through camping, canoeing, hiking and a very heavy storm without cracking a sweat. We are already pals and it's won a place on my camping equipment love list.
The thing I like most about it is how incredibly lightweight it is. It's a small 25 liter pack perfect for day trips or 1 to 2 night camps. The aluminium frame keeps it off your back so it's cooler and provides amazing support so you don't get a sore back or aching shoulders. Weighing in at just 1 kg, the 32-liter version can still hold enough for a weekend tour. Its excellent ventilation is revolutionary. The gap at the shoulder area creates a "chimney effect", while the wide-meshed air space suspension system, shoulder straps and hip belt promote air circulation. With adjustable back length. See a list of features here.
I also love the Mammut 'Fair Working Conditions' policy which means their products are ethical and are rated at best scores from Fair Wear Foundation and from the Clean Clothes Campaign.
Helinox Chair One
OK this is the bomb diggity, the Rolls Royce of camping chairs. I have always considered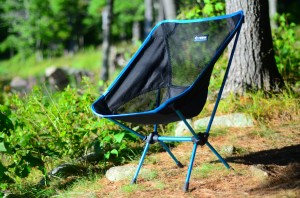 camping chairs a somewhat unnecessary and far too heavy addition to my camping gear repertoire until now. The Helinox Chair One folds up super small and the aluminium frame makes it light to carry. Its comfortable, able to hold 320 lbs and a now essential part of every camping trip.
We have tested this twice, and on both occasions, fellow campers offered to buy it from me. Not a chance – get your own! Here are the stats:
Weighs a paltry 1.9 lbs and rolls up smaller than your Sunday paper

Anodized DAC aluminum poles

Supports up to 320 lbs.
Nalgene Water Bottles and Travel Pack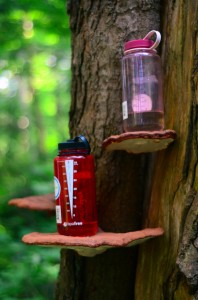 I still have Nalgene bottles that I bought 10 years ago and those babies just keep going. I was out with our friends in Algonquin National Park doing these reviews and we noticed that every one of them had a Nalgene of some sort. I use the water bottles, and small and medium travel packs for medication and food. Why? Because when I put cooking oil in a Nalgene bottle, I know it's not going to leak all over my bag.
Nalgene gives you the most reliable, most dependable long-term bang for your bottle buck. Check out their now BPA-free range of bottles and storage options for water, food and just about everything else. You can even customize your own bottle to suit your unique needs.
Rite in the Rain
This is pretty awesome actually; whether you are a writer, an avid drawer or need to take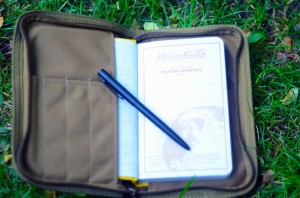 notes in the field, Rite in the Rain is a waterproof notepad and pen set that keep writing no matter the weather. This also makes a great travel journal option because, even if you drop it in the drink, you won't lose your ink!
Outdoor Research Adventure Wear
And next… slick wear for camping. So usually, camping means wearing the very worst of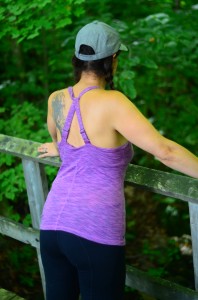 your clothing. That t-shirt your mum gave you for Christmas and the shorts with the hole in the butt. However, there is something to be said for the modern fabrics. These puppies wick sweat away from the skin so you stay cool and smelling rosy no matter how long it's been since you saw the inside of a shower. Get them wet and they dry in a flash too.
We tried a few different options, and the Ignitor Tee and the Flyway Tank from Outdoor Research were our favorite camping shirts by far – they have a great range of layering options too.
If you want to avoid harmful chemicals but still protect your skin fro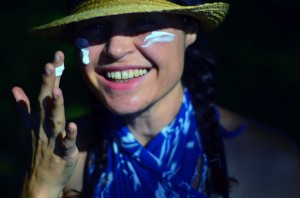 m then True Natural is definitely the way to go. I love this stuff! It goes on easy and doesn't have that oily or sticky feel that sunscreens usually do; it gets absorbed right into your skin. It's healthy, you're happy and you and your family can enjoy the summer sunshine.
*Note: This is not a sponsored post. We tried a bunch of camping gear – some was good, some didn't crack the nod, and the gear featured here was our favorite!