Whether you are sitting in the backyard or out in the woods, you wan to be able to enjoy the experience without providing the bugs with an all-you-can-eat buffet. There are several wonderful new camping gear solutions for enjoying the great outdoors, bug free!
Editor's Choice: On-Sight Equipment Insect-Guard Pullover
Novice campers may scoff at the sight of my bug jacket, but when they step into the woods and get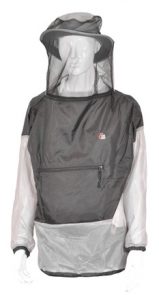 swarmed by horseflies, black flies and mosquitoes, I have the last laugh. My early spring camping trip was a little too early this year, but I just couldn't wait to get out there. I set off for a canoe trip in Ontario and, when the horsefly tsunami hit, I was really glad to have this excellent piece of gear.
The bug jacket is lightweight and rolls up small so you don't have to worry about it adding to your pack. The mesh means that it isn't hot and breathes well and you can wear a hat under which keeps it off your face. The best part for me? It's made from recycled plastic bottles!
If you are like me and don't enjoy spraying yourself with bug spray, then this Insect-Guard Pullover is the best answer. It's comfortable and you won't even know it's there, but is sure does keep the bugs at bay. The Insect-Guard Pullover is one of my must-have pieces of camping gear for a natural and effective solution to bugs of all shapes and sizes. It's great for gardening too!
Thermacell Backpacker Repeller
This is a really nifty piece of gear! If you are out in the woods during mosquito season, this ingenious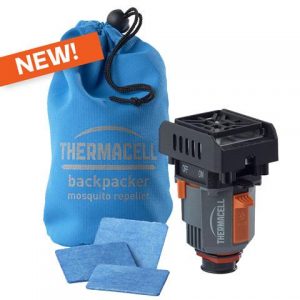 bit of kit is a must-have. The Backpacker Repeller* utilizes the gas canisters you are already carrying for your gas stove to gently heat the mosquito pads and activate the mosquito repellent.
I tried it out first in my backyard when mosquitoes were ruining a perfectly good barbecue. It provides an impressive 15'X15′ mosquito-free area which gives you the space to sit back and enjoy your outdoor experience.
My second experience was a hike-in camping trip so I could test it's efficacy in the woods. It's perfect for back-country camping because it's lightweight (114 g/4.0 oz), compact and fuel-efficient lasting up to 90 hours from even the smallest 4 oz gas canister. It's effectiveness can be compromised by strong wind, but then there usually aren't bugs in those conditions anyway.
You pop in a mosquito pad and connect it up to your gas canister which gently heats the pad to release the bug-busting chemicals and, in a couple of minutes, you are mosquito free. Never let bugs ruin a camping trip again with this easy, effective and affordable solution. Now I use my Thermacell Backpacker Repeller whenever I am outside for gardening, barbecues or camping. Just be sure to dispose of the spent mosquito pads effectively.
*Does not repel backpackers!
Thermacell Scout Mosquito Repeller Camp Lantern
I was a little skeptical when I first got this lantern. It just seemed to easy, but once I fired it up, I was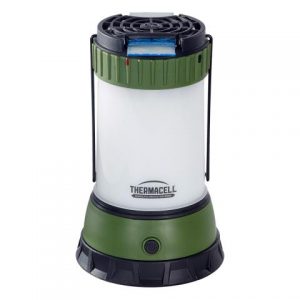 converted. I like it because it repels mosquitoes and black flies and that is essential in the early spring. I have an allergy to black fly bites, so this was a welcome reprieve.
The 15'X15′ zone of protection gives you enough space to enjoy your outdoor experience and it's effective in under five minutes. The lamp uses a small butane cartridge to heat a mosquito pad. The pad releases chemicals into the air which repel biting insects. The chemicals are safe for humans an birds, but can be toxic to fish and cats. At 12 hours of use per mosquito mat, you're really getting your money's worth.
The lantern is effective as well with four light settings and a water-resistant casing. The LED light is energy-efficient with 220 lumens on high and 55 on low. You get 10 hours of LED run time on the high setting and 40 hours on low.
It's lightweight and compact, so I take it with me on canoe trips, fishing, camping and for outdoor barbecues. While it's quite lightweight, I do find it a little bulky for long hiking and climbing trips where space is a consideration.
The Thermacell Scout Mosquito Repeller Camp Lantern is a great piece of gear and I give it a glowing five out of five for making camping comfortable.
Need a little good karma? 'Like' our Facebook page and get more good vibes than you can shake a sharp stick at.