Twinkle, twinkle little light, I won't trip over my tent tonight!
If you've ever tripped over a tent peg, or (ahem!) 'lost' your way to your tent after a few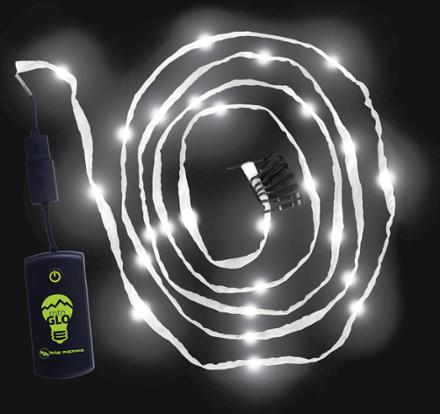 nightcaps around the fire, then I have a sweet, sweet solution for you. Meet the Big Agnes mtnGLO Tent Light Accessory Kit. OK, I'm just going to come out and say it, I have a thing for Big Agnes. All of the products that I have tested over the years have been so awesome, that I have added many of them to my personal camping gear. That being said, our gear reviews are free, so we don't get paid to say nice things, and we don't play nice with our gear. We put it through the ringer so you know you're getting good advice. The mtnGLO integrates a seam of LED lights into your tent seam and can be retrofitted to any existing tent. It has two settings – 50% (its party time) and on (all business) and I found the bright setting good enough to read by. The dim setting is great for playing games, hanging out and the odd disco tent party (as one does).
The Stats
Powered by 3 AAA batteries, the low-energy LEDs will get you about 90 hours of light. The kit includes a neoprene travel case and plastic clips so you can attach them to the inside of your tent. The string of lights is 100″ (254 cm) long and weighs a mere 3 oz. The Big Agnes mtnGLO Tent Light Accessory Kit can be powered by any USB light source. You don't have to restrict use to your tent. String it up around your campsite, make an impromptu chandelier or a romantic table decoration for picnics. Use it anywhere ambient light is needed. We loved these lights and the way they enhanced the tent experience for us. So long headlamp blindness and YES to comfy ambient tent light.