It's difficult to know how to dress in the shoulder seasons. You don't want to carry too much stuff, but you also don't want to get caught feeling the chill. Being comfortable and safe outdoors means choosing the right gear and that's where we've got your back.
How it Works
We don't get paid for our gear reviews, so you know that our opinions are unbiased. The gear featured here was put through its paces in Africa and in the backwoods of Southern Ontario so we could test it in a number of different situations. The items listed here are the BEST of the gear we tested and our editor's picks for spring 2016.
This ultra-lightweight vest keeps your core warm, but allows for maximum movement. If the day
warms up, it folds down so small it's perfect for outdoor adventures.
Insulated with 850 fill power DownTek™, the Juel vest is made from ultralight nylon rip-stop shell that is water and wind resistant. A good vest is an invaluable asset to every outdoorsy person's repertoire, and this one is the best we've tried so far!
Outdoor Research Coralie Shirt
Ok, so when I got this I wasn't tickled pink because it didn't button down the front. But once I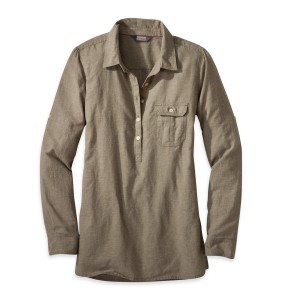 started wearing it, all was forgiven. I wore it EVERYWHERE and it's perfect for spring and summer. There's so much to love! First of all, as a hemp and organic cotton mix, it breathes well and dries quickly. It's stylish and I loved the coconut-shell buttons. The fabric is lightweight, with good wicking and UPF 15.
This is one of those things you take whether you have are packing for a long trip and have plenty of space or if you are lugging everything yourself and have to choose just one shirt. This would be my pick for an all-season must have shirt for sure!
Outdoor Research Maximus  Men's Jacket
Maximus is a beast that can tame any weather. Featuring waterproof, breathable GORE-TEX®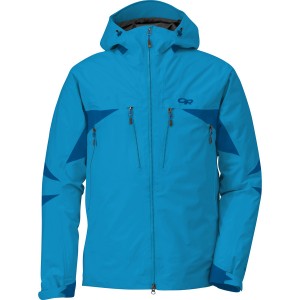 Pro 70D fabric and GORE-TEX® Pro Stretch panels, the Maximus is great for freedom of movement. This shell is great in colder weather or storms to protect from rain and wind, but cool enough on its own for shoulder seasons. Lightweight, it folds up small enough not to add to your pack too much.
The Maximus is versatile, as it makes a great shell for winter and a good choice for spring storms. Highly recommended for practicality and excellent quality, brilliant small details and good fit.
Camping? Make friends and influence people around the campfire with meals that are the cat's pj's. Get your copy of the Flaming Marshmallow's Guide to Campfire Cooking.