Guest Post By Anna Schwengle, founder Finn + Emma
Natural, organic children's products have gradually become more mainstream and readily available over the past 10 years. However, many consumers are still passing them up in favor of their toxic counterparts. The importance of choosing non-toxic products doesn't always resonate for some or the assumption that organic products are too costly. Fortunately, for today's parents, the offerings in affordable and stylish organic baby clothes, toys and cleaning and personal products are easier than ever to find.
Most parents agree that what they put on their baby's skin is important and limiting their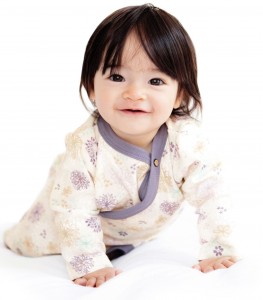 exposure to harmful chemicals is significant. Since a baby's skin is naturally very delicate and easily absorbs what's in and around it, it's important to purchase organic clothing and toys  natural cleaners, lotions, and other personal-care products for homes and babies. It is recommended parents look for natural and organic fibers including cotton, wool, and bamboo. These breathable, untreated fabrics play a big part in reducing possible irritation, allergies, and other health problems for newborns.
Traditional baby clothing, made of synthetic and non-organic fibers, can contain any number of toxic substances, like petrochemicals, acrylic, and PVC, that have been linked to a variety of health problems such as learning, developmental, and behavioral issues. From farming to production, mainstream apparel practices rely heavily on pesticides, synthetic substances, and other materials that can have a negative impact on children and are simply not safe.
When it comes to the toy industry, plastics are king. Just look through the toy section at your local store and you'll see bath toys building blocks, action figures, dolls, educational games, and more made from plastic. Most plastics are made from natural gas or oil, both known carcinogens (cancer-causing agents). Chemicals called phthalates are also toxic. They are used to help toys retain strength and flexibility, but also leach chemicals which are known to be endocrine (hormone) disruptors.
Many craftsmen and toy companies are now making and expanding their lines of wonderful, interactive, and creative wooden toys. Toys made from wood or other natural products tend to be much more durable than plastic ones, evoke more creativity in children, can be passed down for generations, and make wonderful heirlooms. Purchasing non-toxic toys is one of the easiest ways to limit chemical exposure for children, especially since many young babies and children will put the toys in their mouth.
We vote with our dollars and it couldn't be truer than when it comes to organic, non-toxic products. The more we intentionally choose these products, the more available and affordable they'll become. They also protect our earth with their sustainability. It's a win-win. So make the best decision for your little one and choose natural, organic products.
Anna Schwengle is the founder of stylish, sustainable baby brand 
Finn + Emma.
   Anna created the line because she felt the infant market needed more options than just the traditional soft and sweet designs or ruffle overload and the existing options for organic baby clothing and toys were limited and not very inspiring. So she decided to launch a brand that speaks to the modern mother who loves design and style but still wants her baby products to be safe and healthy.