Thomas Slabbert is what you would call a go-getter. At 15, he has already started his very own charity called 3 More Moves. Thomas is the quintessential sportsman and there isn't much he can't do.
His first love is for climbing but, living in South Africa where most students can't afford to play sports, rock climbing is beyond the means of many of his fellow students. Thomas decided to do something about this and so he started a charity that gets young disadvantaged South Africans climbing. He recounts the very first class of his charity here:
The first group of 3 More Moves participants got their very first lesson last Friday, October the 4th. Needless to say everything ran perfectly, and the kids absolutely loved every moment of it.
A taxi loaded with the three kids (Given, Edger, and Junior) picked me up at Afro Boer—a local restaurant who sponsored a healthy climber's lunch for the group—then it was off to the Climbing Barn, (the Barn's owner Paul Bruyere, who is also my climbing coach, had generously let 3 More Moves use the gym in order to train the kids.)
Our session started off with a briefing on what was expected for the day's training, as well as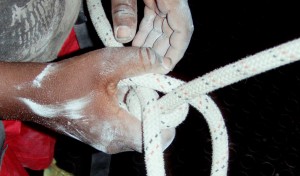 everyone getting to know each other. Oliver Strange and Kyle Meintjies (my climbing partners) then took the group through a knot-tying lesson. After fifteen minutes, all the kids could tie their own climbing knots.
Next came the actual climbing. The students were so eager, but Edger was doing the best. We then moved the group on to a bouldering session, which is in a 3 meter high cave with soft padding on the floor. Here we could focuses on the technique of climbing, and the group had fun doing a bit of free climbing.
To finish off the lesson each kid got to abseil off the side of the building. This took a lot of courage from all of them but at the end they had mastered the abseil!
At the end of the day, each kid left the gym with the biggest smiles I have ever seen.
The same group, Given, Edger, and Junior will be coming again next month. For the next lesson we are hoping to get another student too. We are so excited about starting our charity and we would love help raising funds. The more money we can raise, the more students we can help.
Contact Greenmoxie for details on how you can help.
Need some good karma? 'Like' us on Facebook and get all the good vibes you can shake a sharp stick at.