There's no really good reason to buy a new lamp when the world is filled with already-made items you can convert into cute, upcycled lamps for your home. You can get a lamp fixture from your local hardware store for as little as $5; the rest is just imagination and moxie…. Here's some ideas to get your creative juices flowing. Our first set of upcycled examples use blown up balloons and white glue to create rounded lamp shapes. You can stick practically anything on a balloon to make a lamp, let the glue dry, pop the balloon and presto!
Gorgeous Upcycled Teacup Lamp
All you need is a porcelin drill bit and this lamp project is a go! Get a step-by-step guide here.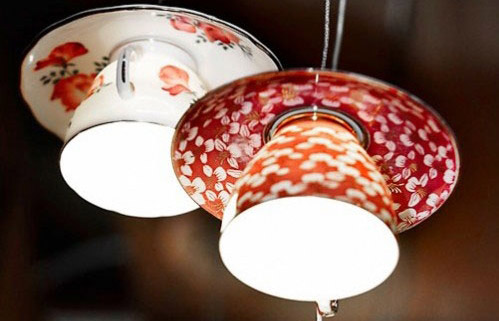 Upcycled Cocktail Umbrella Lamp
I have always loved cocktail umbrellas and I am so glad someone found a way to utilize them for something that is permanent.
You can make your own cocktail umbrella lamp or get one from Alison Patrick's Zipper8Lighting Etsy store here. Alison makes a wide variety of really fun and incredible upcycled lamp fittings. From pop tabs to old road maps and coffee filters, Alison's creative genius knows no bounds.
Upcycled Doilie Lamp
This is a Greenmoxie fav and a great way to use grandma's doilies. You can see a step-by-step guide to making your own here.
Our next set of lights require a drill and a ceramic drill bit. Be especially careful when drilling holes into glass items.
Upcycled Coffee Cup lights
Tea cups, coffee cups and glasses all make idea upcycled light fixtures. Simply drill a hole in the bottom and feed your lamp fixture through to create original designs. This upcycled coffee cup design was created by the Anthology Quartet.
Or check out this upcycled Coke Bottle chandelier by Organic Green Roots.
Or this striking upcycled teapot lamp by Merveilleaux on The Upcyclist.
We think the world of this one!
Or this really cute upcycled string of salt and pepper lights (perfect for patios!)
We think this upcycled idea is just grate…
Or make a strained glass window or door from upcycled slides
Are you ready for this jelly?
And we take our hats off to this one!
The bird is the word!
 Like what you see? Please 'like' on Facebook and we'll send you regular updates on how to make your world a little greener.